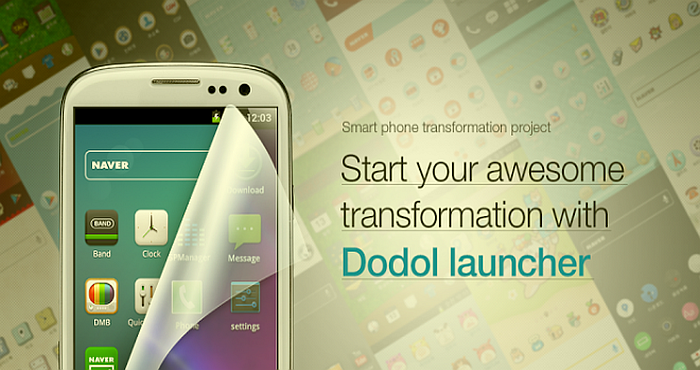 Dodol Android Launcher keeps things simple and do themes just right with more than 10 million support and install for more than a few free themes. The best for beginner Android launcher is not a complete reworking of the Android system; however, it is a lightweight, useful launcher, and it won't obliterate the life of your battery with crazy animations and effects. If you are new to Android customization, Dodol Android launcher is the great place to start.
Many third party launchers are now available on the Play Store that you can download and apply any of them on your device. However, Dodol launcher is quite different from them due to the fact that it offers its own Skins, Fonts and many more things to help you customize your gadget according to your need.
Just like every available launchers, Dodol launcher lets you modify and improve the looks of the background and homescreen of your app drawer. You can also create reasonably more customized ambiance to match the gestures you like and desire on your Android Smartphone with the help of Dodol launcher. For example, by making use of the various themes available, you can change the widget/icon, background, and home screen of app drawer with just one tap.
Dodol launcher is a little different from most of these other launchers out there as mentioned earlier. Dodol launcher features a lot of themes that can help change and make your phone your own. Moreover there are a lot of enhancements in Dodol launcher app that will help you run your device easily. Other alternatives for different parts of the phone such as the drawer tab are also available.
Features of Dodol Launcher
Apps Drawer – This is one of the most important components of any launcher and you can also have the same feel in Dodol launcher as you have on the Home screen.
The Home Screen – Dodol Android launcher will aid in making your Home Screen clean. It enhances the smoothness of the home screen and also provides the artistic effect needed by the home screen, depending on the theme. Consequently, it gives numerous widgets that will ensure ease of access in operating your gadget from the home screen.
Widgets – These are accessible from the Drawer tab. With widgets feature, you will save time if you want to check any widget on Dodol Android launcher. There are some widgets of shortcuts, date, time and few others on Dodol launcher. Nearly all the widgets use simple standard colors.
Themes collection – Many collections of themes are available on the Dodol launcher market. When you surf through the themes online store, you can download the clean, simple and creative themes.
Dodol Android launcher provides a number of great shortcuts such as the memory cleaner together with a variety of features to customize your home screen, depending on your need. Without mincing word, this Android launcher is worth trying.
Dodol Launcher Download Links