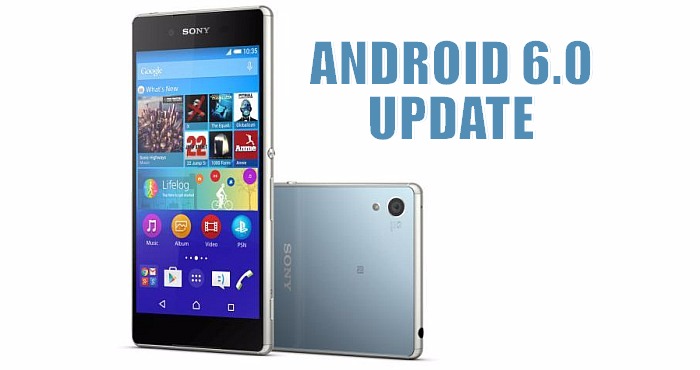 Motorola and HTC have officially made revelations on some of their devices that will be receiving the Android 6.0 Marshmallow updates. On the other hand, LG had dropped some few Marshmallow hints that will be concerning the G4 and G3.
T-Mobile had made commitments on a large list that contained seventeen devices with Android Lollipop follow-up just on the way. This will also include HTC, LG, and Samsung devices.
Predictably, this is the highest time for Sony to come and make its promises. This should be a list of devices that the Japanese Manufacturer is looking to upgrade from former Android Versions to Marshmallow or the devices that we should be expecting from them that come with Android 6.0 Marshmallow pre-installed. For upgrades, it is expected to happen as quickly as possible. Probably, it is expected that the Sony Xperia Z5 trio will be receiving Marshmallow updates by the year end.
Update for Sony Xperia Smartphones & Tablets
Obviously, the Z5 Premium, Z5 Compact, and Z5 makes the headlines of the Sony devices that are expected to receive the Android Marshmallow upgrades. Invited to this party are seven extra Xperia Z family members that are also expected to receive these updates. These are, Z2 Tablet, Z2, Z3 Tablet Compact, Z3 Compact Z3, Z3+, Z4 Tablet, and as well all the Sony Xperia's dual SIM counterparts as well as their regional derivations.
Perhaps, something is missing in this list! That is the Z1 compact, Z1, and as well the other Z1 series. All these are apparently snubbed despite Z1 Compact its daylight last year while Z1 packing a 2GB Ram and a quad-core Snapdragon 800 chip. This is no-doubt a hardware configuration that is more than suitable for at least a final software makeover.
Well, it is possibly expected that Sony will be adding some more devices (tablets and smartphones) on the above list of their devices that are expected to receive the Android 6.0 Marshmallow update. This is as their proprietary optimization work are in progress. As such you should be ready to expect some mid-range phones apart from the Xperia C4, M4 Aqua, C5 Ultra, and Xperia M5 upgraded to Android 6.0 Marshmallow. Such mid-range devices include T2 Ultra, T3, and C3 among others.
Other companies like Samsung and HTC have released a list of both high-end devices and mid-range devices that are scheduled to receive the update. Therefore, Sony is expected to follow suit.